What is a yoga party?
It's a party with a twist! Hosting a yoga party is a great way to bring four or more friends, family and co-workers together in the comfort of your home, hotel or office for a healthy retreat. If the weather cooperates, we can even set up in your backyard or a local park. Whether you have experience or not, the benefits of yoga can help everyone unwind from life's stresses. Our goal is to create a fun and unique yoga event tailored for you and your guests. Contact us today to get scheduled.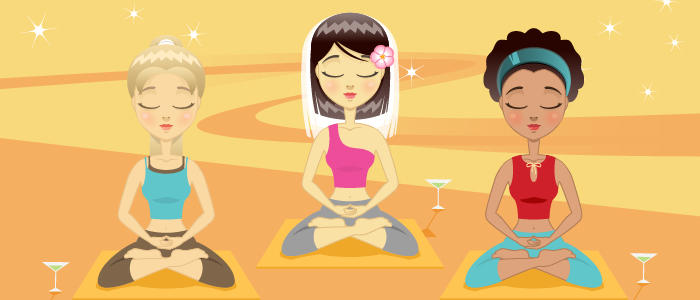 When to have a yoga party:
Birthday Parties (for kids, teens, or adults)
Yoga party details:
1 Hour Yoga Session
You provide the location
Class customized to meet your needs
Music provided
Mood enhancing candles (if desired)
Hostess, or guest of honor, receives a free yoga-inspired gift
Yoga party pricing:
$175 — 4 to 10 guests
$225 — 11 to 20 guests
$300 — 20+ guests
Additional options:
Yoga-inspired Invitations – Are you super busy? Give us your address list, and we'll even create and mail yoga-inspired invites to all of your guests. (price varies)
New yoga mats – Available as gifts or party favors. ($10 per person)
Healthy snacks and tea – What's a party without treats? We'll bring yummy munchies that are perfect for noshing on before or after. ($10 per person)
Nutritious meal demonstration and sampling – What better way to end an invigorating yoga session than with a healthy meal prepared with the freshest ingredients? Watch as we whip together something so tasty you'll swear that it can't be good for you. ($25 per person)
Yogini Martinis ($5 each virgin, $8 each with alcohol)
Table or chair massage – Services provided by Cafe Physique partner, The Spa Flow (pricing provided upon request)
Spa services – Manicures, pedicures, and facials provided by Cafe Physique partner, The Spa Flow (pricing provided upon request)
Don't see what you're looking for?
Don't hesitate to ask!