Being confined to your office for hours at a time can do a number on your body. In fact, people who sit most of the day are more likely to have elevated cholesterol, blood sugar, triglycerides and even an increased waist size – all of which increase the risk of diabetes, heart disease and a number of other health problems.

But luckily, this doesn't have to be you – even if moving your mouse is the most physical exertion required for your job – because there are plenty of ways to get up and get moving while at work.
One trendy way to get moving at work has been touted everywhere from mainstream blogs to CBS News. "Desk Yoga" promises some of the same benefits of regular yoga from the comfort and privacy of your office desk chair.  Along with relieving the tension that builds up in your shoulders and back throughout the work day, these modified desk yoga poses can help keep you focused…on your work and your health.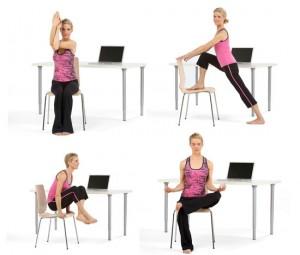 Whether you're doing these poses alone in your office, or joining in on a corporate yoga class with your co-workers, you're sure to benefit. So, is desk yoga worth the effort? You bet it is! Any time you can move your body, reduce stress, and focus attention on your health, you're sure to come out ahead.